WhirlMaxx
WhirlMaxx is the result of a long-cherished desire to integrate the best possible and most natural care for your whole body right in your shower. The result is exceptional in two respects. After showering, you will experience a perfectly blended complete body care at the touch of a button. Just vitalized water and eco-certified care lotion, completely free of emulsifiers, stabilizers and preservatives. And all this happens in the little whirling genius WhirlMaxx where water and care oils are blended by more than hundred thousand revolutions per minute.
simply press button and be amazed
select you favourite care oil
30 seconds of lavish treat
pure natural skin care
for silky soft skin all day long
and your shower stays clean
very easy to mount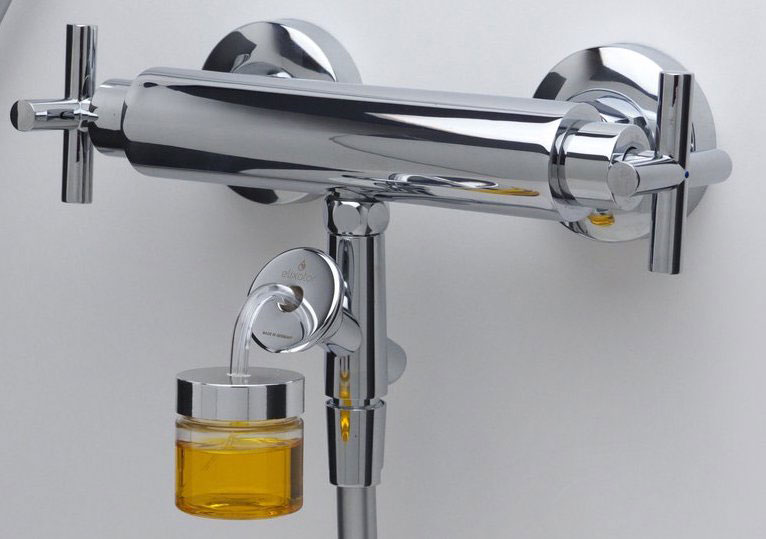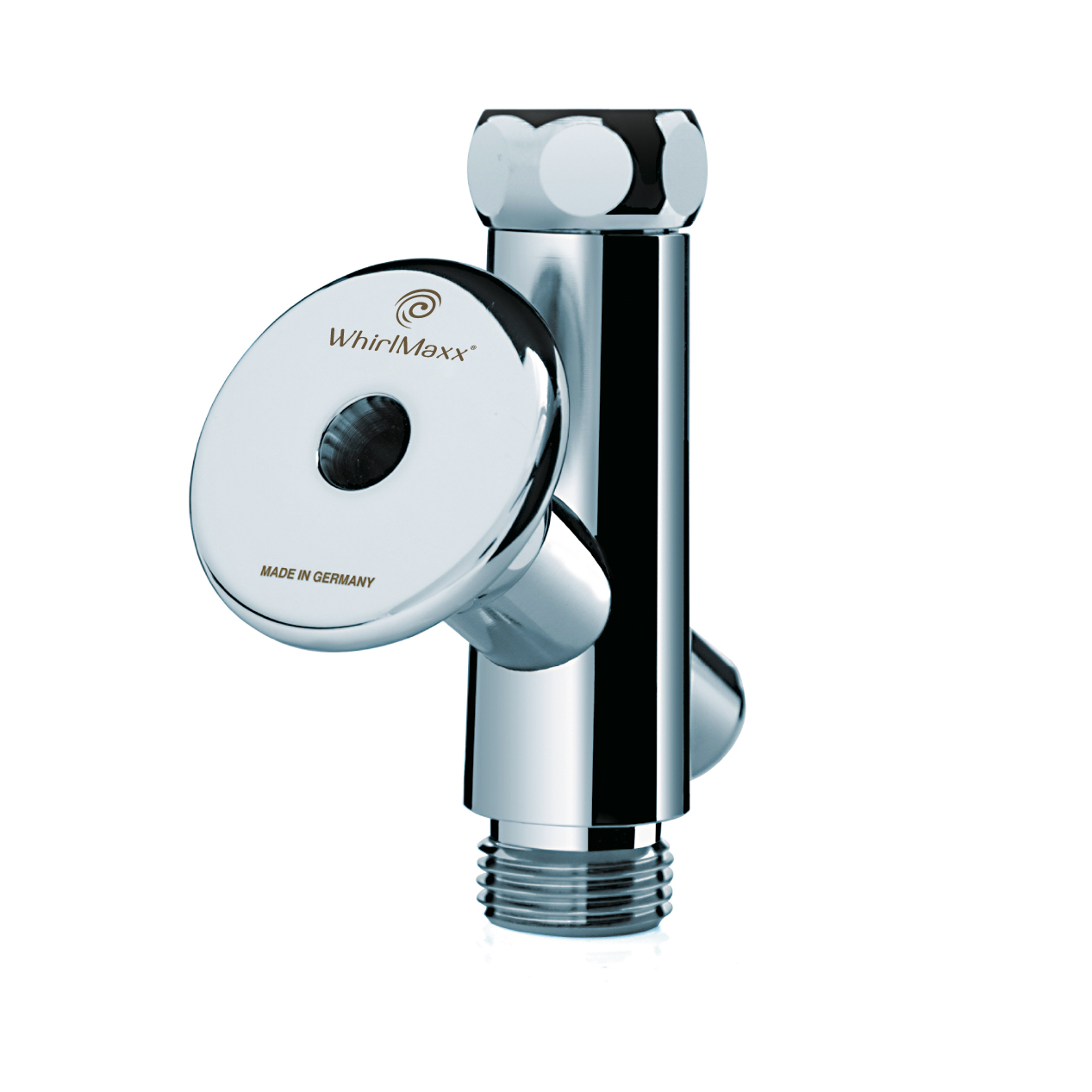 The little whirling genius is simply screwed to the existing fitting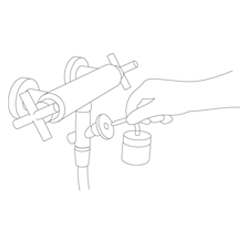 1
Inserting OilDispensing Jar
Insert the dispensing jar, leave until it is empty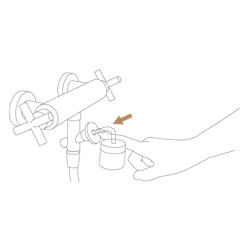 2
Push button
push button in mixing position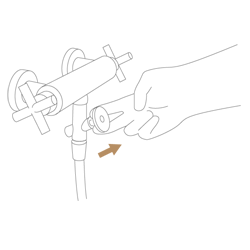 3
Pull button
to end mixing process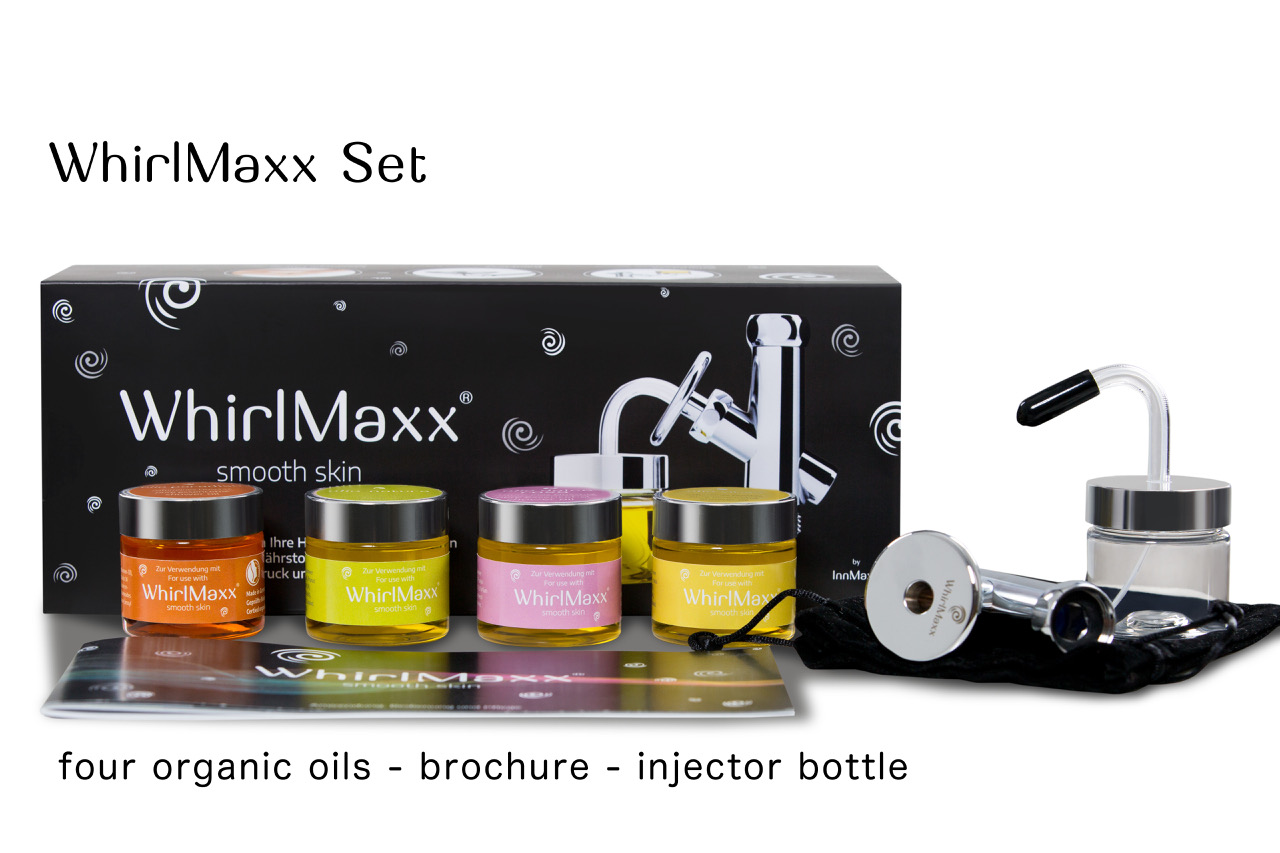 Your WhirlMaxx Set contains
The WhirlMaxx is very easy to mount (screw off the existing shower hose, assemble WhirlMaxx, screw on the shower hose back again - finished) A selection of four different WhirlMaxx care oils Olio Vitale - Olio Paradiso - Olio Natura - Olio Dolce Rosa and the corresponding injector bottle.

Clockwise rotating vortex chamber
During our research, we continue to discover phenomena that cannot be explained by up-to-date physics. For example, the question arises as to why water that passes through a clockwise rotating vortex behaves differently than water rotated counter-clockwise. We are still working on finding a plausible, physical explanation for this phenomenon.

100,000 revolutions for the most delicate spa treat
To be quickly absorbed by the skin, nourishing oils must be broken down into very fine droplets and then blended into water. Within the WhirlMaxx it is possible to accelerate the water to over 100,000 revolutions to create an incredible blend of a soft and nourishing skin moisturizer. And all this without emulsifiers, stabilizers or preservatives! Nature - pure!

Velvety soft skin all day long
The WhirlMaxx blends hundreds of ne oil droplets in every shower drop, creating a smooth and lavish spa emulsion for a comprehensive thrilling treatment for velvety soft skin all day.

Just one teaspoon of organic oil
Only one teaspoon of oil is blended to the shower water in one minute. The ingenious whirling technique in Whirl- Maxx blends the essential oil so finely that this quantity is sufficient for a perfect moisturizing treat.

The perfect treat in one minute
Just press the WhirlMaxx button while showering and you'll be spoiled with
a lavish spa emulsion. Then towel dry and get dressed. Natural organic skin care has never been that quick and easy!

The shower stays clean!
The essential oil is so finely blended to the shower water that it doesn't leave any traces in the shower. The shower is even easier to clean and maintained be- cause the lime and soap do not adhere that much.

WhirlMaxx effect for women
Perfect full-body anti-aging care with the purest eco-certified care oils completely free of emulsifiers, stabilizers and preservatives.
Unmatched natural organic cosmetics of the very best quality

Pure nature for beautiful skin
The lavish WhirlMaxx spa emulsion consists only of water, pure natural essential oils such as jojoba and almond oil and natural fragrances. This ne spa emulsion is freshly produced, therefore emulsifiers and preservatives are completely expendable.

WhirlMaxx effect for men
... no cream

... no greasing

... no greasy hands

... no fuzz

Just shower - then press the button to activate WhirlMaxx for an instant treat - towel dry - done.